Today I want to tell you about a picture that appeared as a result of an experiment this spring, at the height of the quarantine. The old Board, pulled out a year ago from the ruins of the wing in the Demidov estate, was cleaned, treated with a skin, soaked with a special composition and finally found a face-a view of the night Moscow, the Shukhov tower, the complex of the Russian Academy of Sciences, the metro bridge and the Moscow river. This process took a total of a year! And all because the Board had to be well dried and maintained under certain conditions.

The painting itself took about a month, again due to the need to dry the oil, and then the varnish. So I can understand artists who prefer graphics or work with watercolors and acrylics - they get the result much faster with a similar image format. Well, I'm interested in what I do, so I'm used to a long and dirty preparatory stage. The idea to use metal in the work was not accidental: the old Board could eventually break, and it was necessary to prevent this somehow. I decided to make metal ties, since using epoxy resin in this case would be more difficult. And the task was to use this metal as part of the image.
As always, the old Board became my collaborator - a crack in the middle defined the horizon, a cut of a branch became the moon, plates of aluminum and copper took their places where it is necessary for bonding and composition, and everything else was drawn by imagination.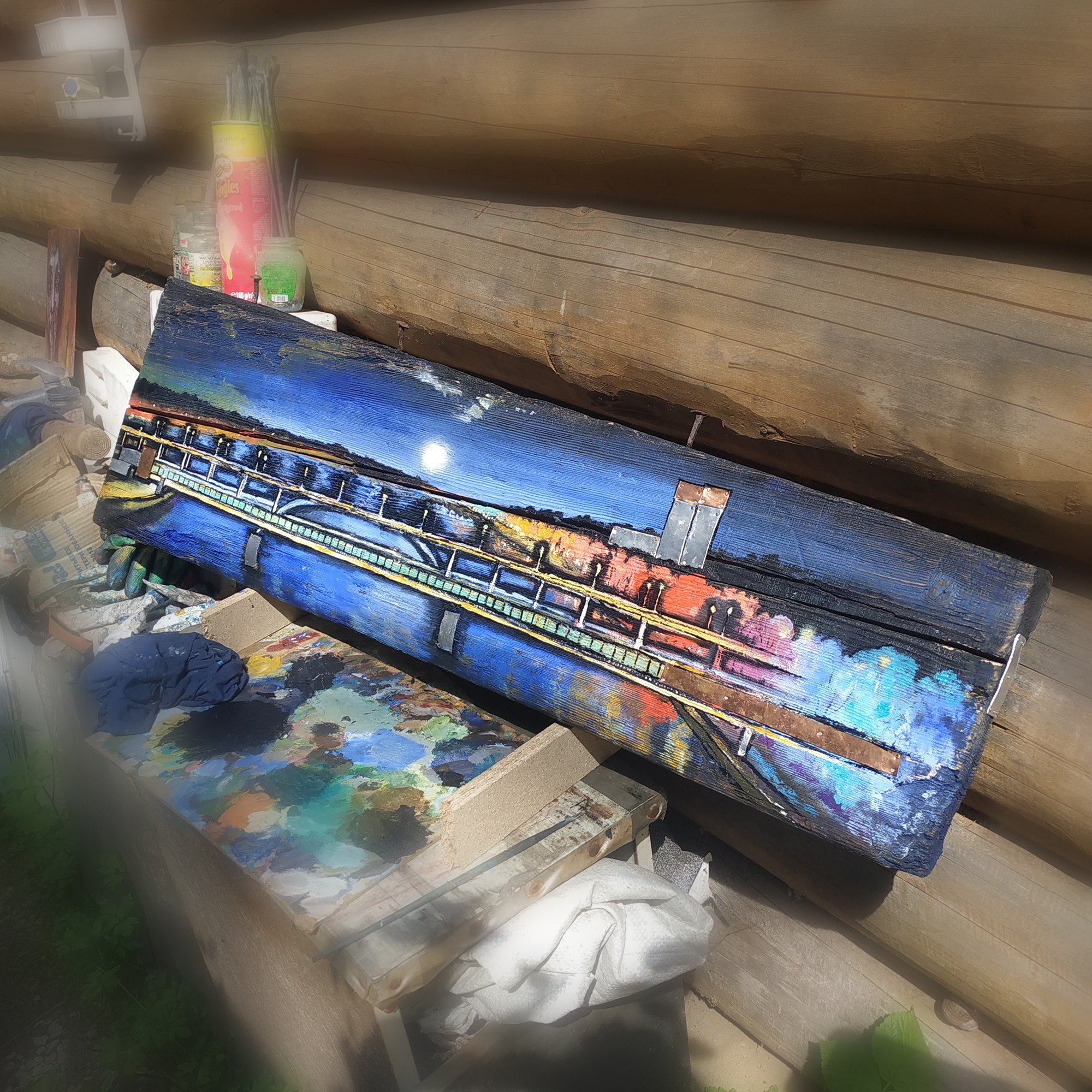 So there was a picture that is something new in my work, since previously I did not use other materials, except paint, canvas and wood. And do not look for inconsistencies in the landscape - Yes, most likely some objects in reality relate differently in space to each other. But I have loved these places since I was a child and I want to see everything in one place-the bridge, the Shabolovskaya tower, the Russian Academy of Sciences, and the iridescent color-lit embankment.
I think that every person who even lived in Moscow for a short time has at least once visited the observation platform of the Sparrow hills, rode a Bicycle under the metro bridge, or admired the Luzhniki pier on the other Bank, waiting for a river boat. How could a carpenter working in the wing of the Demidov estate and holding this Board in his hands think that in a quarter of a century it would become the basis for a picture of the Moscow of the future? If you also find this fact amazing, share it with your friends. Maybe you or one of them will want to have this truly unique thing in your home.